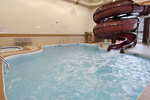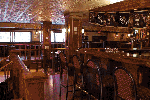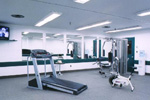 Services and Amenities
Welcome, and thank you again for visiting The Marlborough Hotel. Our friendly service, great central location, and historic character combined with modern amenities, provide a unique experience. A warm, welcoming and well-priced choice awaits you right here in the heart of downtown Winnipeg.
Our historically designated 1914 – 1923 building is a showcase of elaborate Late Gothic Revival and Renaissance style. The original exterior façade features a delightful terra cotta and brick finish with polished granite base and, sheltering the street level Main Entrance, a massive ornate cast iron marquee.
Modern facilities include Downtown Winnipeg's only waterslide, perfect for family fun, and free Wi-Fi (wireless high-speed internet access) throughout the hotel. The Marlborough is Winnipeg's affordable full service hotel with complimentary daily newspaper, room service and porterage service, business centre, fitness room, valet dry cleaning & laundry service, coin-op laundry, automatic teller machine, extensive banquet & meeting facilities and convenient parking. (The Marlborough is pet friendly)
The Marlboroughis a member of the Hotel Association of Canada Green Key environmental rating program. The Marlborough is largely non-smoking. The Marlborough and Manitoba law prohibit smoking in all public areas. Guestrooms on our 7th floor are reserved for those who prefer the option of smoking in their rooms.
Guestrooms
Our 148 well-priced guestrooms include smaller value-friendly Standard rooms, large 350 sq. ft. Superior and corner Executive rooms, 7 One Bedroom Suites, an Executive Boardroom Suite and 2 large Deluxe Jacuzzi rooms. Many rooms offer unique views of The Exchange District National Historic Site or of the office towers at Winnipeg's famous Portage & Main intersection. Guestrooms feature a full range of amenities including Simmons mattress sets, 220 thread count sheets, free Wi-Fi, voicemail, free local calls and toll-free long distance access, 27" colour TV with pay-per-view movies and Nintendo video games, coffeemaker, hairdryer, iron & board, brand name toiletries, complimentary daily newspaper and electronic key card locks. Recycling bins are provided in all guestrooms. Many rooms offer the option of an adjoining guestroom.
Reservations can be made via our secure on-line reservation system or by calling toll free 1-800-667-7666. Please click for our Guaranteed Best Available Rate online. Please note a credit card is required at the time of booking to guarantee your reservation.
Restaurant and Lounge
Our Lobby Level Café offers a unique Late Gothic Revival interior featuring a soaring 24' ceiling, great arched windows of imported English stained glass, hand-wrought Tiffany light fixtures, massive oak beams and arches and a large decorative Normandy-style wall clock with carved details. The Café provides a unique and charming setting for your dining pleasure. Likewise, our Lobby Level English Pub-style lounge provides a warm and friendly atmosphere for business or social get-togethers.
Indoor Pool, Spa Tub & Waterslide
While staying at The Marlborough you can relax in our whirlpool tub, swim in our indoor pool, or enjoy some good clean fun on Downtown Winnipeg's only waterslide.
Fitness Room
Our spacious fitness room offers a range of cardio equipment including a stationery bicycle, an elliptical trainer and two treadmills, all equipped with heart rate monitors. A universal gym, gym mat, TV monitor and filtered water dispenser are also provided. Located on the Second Floor, guests require a pre-programmed room key card to gain entry.
Business Centre
Our convenient business centre, located in the Main Lobby, provides guests with a workstation, PC with high-speed internet access and printer access.
Meeting, Conference & Banquet Facilities
The Marlborough features 16 rooms, totaling over 40,000 square feet, accommodating groups from 8 to 800. Most rooms are filled with natural light from numerous windows. Historic Marlborough Hall and the dramatic Skyview Ballroom provide marvellous 9th floor views of the office towers at Portage & Main, or of the new MTS Centre, Manitoba Hydro headquarters and The Exchange District National Historic Site. Long considered one of Winnipeg's most beautiful rooms, Churchill's, the original 1914 hotel Dining Room, offers one of the finest Gothic and Renaissance-influenced interiors in Canada. The Lower Level Olympia Grill Room is the former home of The Winnipeg Press Club. A 1914 masterpiece of tapestry brick with a heavily beamed ceiling, the Olympia Grill Room offers a unique and historic setting for a variety of functions. The Garrick Centre at The Marlborough offers a large '70's retro-look Lobby and three separate theatres with inclined floors, staggered rows, upholstered chairs, outstanding acoustics and the convenience of street-level access. To book your next event or to arrange a tour, please call 1-204-942-6411 or email sales@themarlborough.ca.
Gift Shop
Four Directions Trading Inc., located on the Lobby Level, is open Monday to Friday from 9 am to 5 pm and on Saturday from 9 am to 3 pm. The shop specializes in traditional and contemporary arts and crafts, music, and jewelry representative of the First Nations People of Canada. If you are looking for a special gift for any occasion, or just to indulge yourself, call Four Directions Trading Inc at 1-204-943-8152 or visit the website at: www.fourdirections.ca.
Hair Salon
Hair Nations Salon offers a wide range of hair and beauty treatments for hotel guests as well as residents of Winnipeg. Located on the Lobby Level, Hair Nations Salon provides a complete hair dressing service for ladies, gentlemen and children. Services include haircuts, razoring, colouring, highlighting, perms, ear piercing and facial waxing. Open Mon. 10am - 4pm, Tues. & Wed. 10am - 5pm, Thu. & Fri. 10am - 6pm, Sat. 11am - 3pm. Please call 1-204-943-8918 for an appointment.